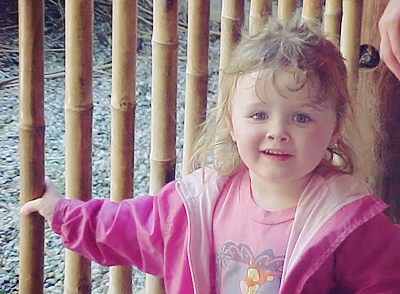 Madison was known for her infectious smile. She was a fan of Dora the Explorer and loved roller coasters so much that her parents planned an annual trip to Kings Island, the largest amusement and waterpark in the Midwest.
Madison's parents did not want to impose limits on her abilities. In an effort to put as much life into her years as possible, Madison was allowed to ride any roller coaster that she wanted. She probably even rode some that she shouldn't have.
As a child, Madison was diagnosed with classic PKAN. She lost the ability to walk at age 5. Madison used a wheelchair at school, but at home she still managed to get around by crawling. Madison never let her disability get her down. Even when she was in unimaginable pain, she still had that sweet smile on her face.
Madison's neurologist was the first to mention that brain tissue donation was an option to consider. Both of Madison's parents were already registered organ and tissue donors. Together, Madison's parents made the difficult decision to donate her brain tissue. They focused on the outcome, an opportunity to help future families affected by NBIA with the hope of being able to relieve some of the pain and suffering that Madison and her family experienced.
At the family's request, the University of Maryland Brain & Tissue Bank reached out to them. There was an initial phone call and some forms to complete. That was essentially the extent of their involvement. The Brain & Tissue Bank took care of everything else. Madison passed shortly before her 9th birthday.
Madison's family lived in a small town. Funeral home staff picked up Madison and drove her to the hospital, where her brain tissue was surgically removed. When the procedure was over, Madison was brought back to the funeral home. Madison's family recalls the Brain & Tissue Bank staff being very respectful and courteous. The entire process was very smooth.
In addition to her funeral service, a memorial ceremony was held for Madison's 3rd grade class. Her classmates sang the song Friends and each and every one of them wore purple. Purple was Madison's favorite color. She wore it almost everyday.
Madison was a loving kid that liked hugs and joking around. Her presence made those that were around her better people. Madison's parting gift was to touch the lives of other NBIA families with her invaluable contribution in the quest to discover a cure for NBIA.
"There are things we don't want to happen, but have to accept. Things we don't want to know, but have to learn. And people we can't live without, but have to let go."
Copyright © 2014 by NBIAcure.org. All rights reserved.