We will share information about the CoA-Z phase II clinical trial on this page so check back often for more details!
Last updated: 11/22/2019


On this page we will share updates on our work on CoA-Z in preparation for the trial you've all been waiting for. We want to share information about the plans for the US and Canadian trial, since we are now close to launch. In addition to the incredible support received through local small grants and your donations to the Spoonbill Foundation, Stichting Lepelaar, and "ZZF", the Dutch Foundation for rare diseases, all of which have truly kept the trial plans moving forward, our team at OHSU has now also been awarded a large grant from the National Institutes of Health. Specifically, the Eunice Kennedy Shriver National Institute of Child Health and Human Development has awarded us funding to support running the CoA-Z clinical trial over several years in the US and Canada. Spoonbill dollars will continue to be instrumental to fund the ongoing manufacturing and formulation of CoA-Z, database development, and other costs not covered by the grant.
Announcement! (11/22/19)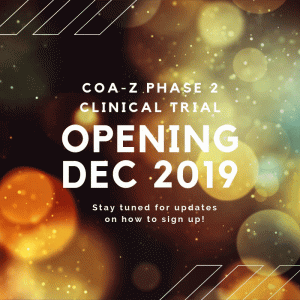 We are so pleased to finally share that we plan to start enrollment in the US/Canada CoA-Z phase 2 clinical trial in mid-December. We know the PKAN community has waited a long time to hear this news. Please continue to monitor our NBIAcure website and Facebook/Twitter pages for further details as they become available: by keeping you informed online through posting updates, we hope to avoid having our time diverted by a large number of individual telephone and email inquiries. Our team needs to stay focused on the remaining tasks at hand to start the trial! The pace of enrollment will depend on many factors, including our ability to collect information to confirm each person's diagnosis of PKAN, individually consent each family, manage the logistics of formulating and shipping large volumes of CoA-Z, and coordinate everything with holiday schedules. Please realize that the bulk of enrollment will need to happen during the first quarter of 2020. We are incredibly excited to be at this point and look forward to working with all of you. Please stay tuned for more details!

Video about the Spoonbill Foundation