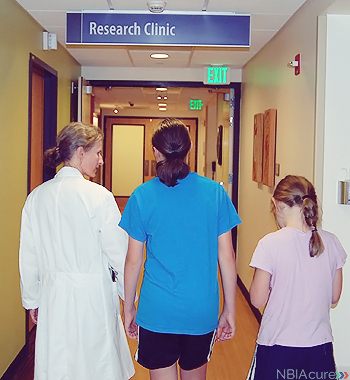 NBIA stands for "Neurodegeneration with Brain Iron Accumulation." The hallmark feature of NBIA disorders is abnormal iron accumulation in specific parts of the brain. Though iron accumulates in all of the NBIA disorders and helps signal the correct diagnosis, it is a 'side-effect' and not the main problem. The main problem in each NBIA disorder is the failure of an important protein to carry out its essential cellular function. That function differs for each NBIA disorder and is based on the specific gene that is mutated. The symptoms of NBIA and the age at which they appear are different for each NBIA disorder.
Click on the links below to learn more about a specific NBIA disorder. Each page includes information on common symptoms, the genetic cause, diagnosis, testing, management and progression.
PKAN
PKAN (pantothenate kinase-associated neurodegeneration) is the most common form of NBIA. Based on the age of onset and rate of progression, individuals with PKAN may be classified as having classic or atypical forms…
PLAN
PLAN (PLA2G6-associated neurodegeneration) is one of the NBIA (neurodegeneration with brain iron accumulation) disorders. Based on an individual's age of onset and symptoms, they may be classified as having one of three subtypes of PLAN: INAD, aNAD or PLA2G6-related dystonia-parkinsonism…
MPAN
MPAN (mitochondrial membrane protein-associated neurodegeneration) is a NBIA disorder that is characterized by gait changes in the beginning, followed by progressive spastic paresis, dystonia, neuropsychiatric abnormalities and cognitive decline…
BPAN
BPAN (Beta-propeller Protein-associated Neurodegeneration) is an NBIA disorder that is characterized by childhood developmental delay and seizures, with adult-onset movement problems, including dystonia and parkinsonism…
FAHN
FAHN (Fatty Acid Hydroxylase-associated Neurodegeneration) is a rare NBIA disorder that involves muscle spasticity and dystonia, eye findings early in the disease, and progressive intellectual impairment and seizures later in the disease course…
CoPAN
CoPAN (COASY Protein-Associated Neurodegeneration) is an NBIA disorder that is characterized by spaticity and weakness of the lower limbs early in the disease and iron accumulation and calcifications found in the globus pallidus…
MEPAN
MEPAN (Mitochondrial Enoyl CoA Reductase Protein-Associated Neurodegeneration) is a rare disorder that is characterized by a progressive childhood-onset movement disorder and optic atrophy. Although we now know…
Woodhouse-Sakati syndrome
Woodhouse-Sakati syndrome is an NBIA disorder characterized by both neurologic and endocrine symptoms…
Neuroferritinopathy
Neuroferritinopathy is a NBIA disorder characterized by symptoms that are similar to Huntington disease with adult-onset chorea or dystonia and cognitive (mental) changes…
Aceruloplasminemia
Aceruloplasminemia is a NBIA disorder that is characterized by iron accumulation in both the brain and visceral (internal) organs…
Kufor-Rakeb syndrome
Kufor-Rakeb syndrome is a NBIA disorder that is characterized by juvenile parkinsonism, progressive cognitive decline, abnormal eye movements and involuntary jerking of the facial and finger muscles…
I don't know what type I have
Individuals who don't know which NBIA disorder they have typically fall into one of the two categories: (1) They have not had genetic testing yet (2) They have had genetic testing…
Copyright © 2014 by NBIAcure.org. All rights reserved.