What is a baclofen pump?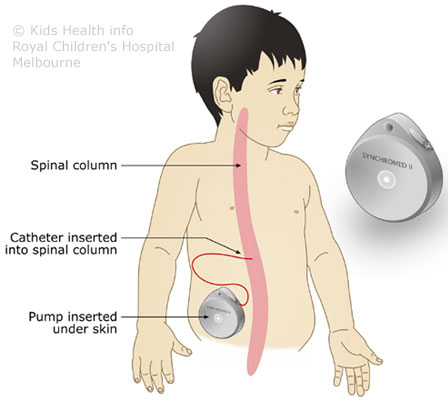 Baclofen is one of the most effective drugs for dystonia (involuntary muscle spasms) and spasticity (stiff or rigid muscles) in NBIA
A baclofen pump is surgically placed inside the body and continuously delivers baclofen
When and how much baclofen gets delivered is programed into the pump by a doctor
Baclofen is injected into the intrathecal space (fluid-filled area surrounding the spinal cord) through a catheter
When should a baclofen pump be considered?
When oral baclofen medication can no longer control the dystonia/spasticity symptoms

The oral form typically loses its effectiveness over time
Side effects often develop before the oral drug reaches its full potential

A baclofen pump should be considered as a alternate treatment earlier rather than later
What can be expected from the procedure?
Before having baclofren pump surgery, individuals should first get a few test doses of baclofen

They can be injected by a trained nurse in the hospital and kept overnight for observation
The test doses will allow the doctor to see how a patient responds to the medication

The baclofen pump can be placed either high or low depending on the surgeon

Dr. A Leland Albright, a neurosurgeon at the University of Wisconsin, has developed a method to place the pump's catheter tip high in the ventricle (fluid filled cavity) of the brain

After the pump is implanted, regular doctor visits should be scheduled

To re-evaluate the effectiveness of the treatment
To adjust the level of medication as needed and how it is released from the pump to optimize results

Other therapies such as oral medication, Botox injections and DBS (Deep Brain Stimulation) can be used along with a baclofen pump when appropriate/needed
What effect will it have on quality of life?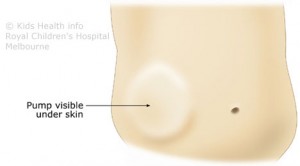 The pump can sometimes be seen under clothing
The pump needs to be refilled when the baclofen medication runs low
However, it is generally discrete and has little effect on daily activities
Are there any side effects or cons?
Cons
The surgical incision site can get infected
Baclofen withdrawal or overdose

Withdrawal is more likely than an overdose
Something as simple as a kink in the tubing can lead to a lack of medication, causing withdrawal symptoms
Human error can occur rarely, such as the medication dosage being programmed incorrectly into the pump and causing an overdose (vigilant parents can help reduce this risk)
Pros
The baclofen pump is usually more effective than oral baclofen
The baclofen pump is effective at a lower dose

Lower dosage means fewer side effects and less harm to the body

The baclofen pump can deliver medication in multiple ways:

Continuous mode
Flexible mode
Or a combination of both based on trial and error

The pump is less invasive than treatments like deep brain stimulation (DBS)

DBS is probably the next best option for managing dystonia

Treatment is potentially reversible because the pump can be removed if needed
Copyright © 2014 by NBIAcure.org. All rights reserved.