From June 24th to 26th, Dr. Penelope Hogarth hosted the first BPAN Research Meeting worldwide at OHSU. We had a total of seventeen families travel from across the United States to Portland, OR. Their children ranged in ages from 2 years to 29 years and varied even more in their spectrum of symptoms.
On the first day of the meeting, families participated in a number of research studies to allow us to learn more about their children and collect data about BPAN. We did tests to evaluate their motor skills, cognition level and developmental milestones. We gathered medical history to clarify the natural history of BPAN. We collected biological samples to help with our understanding of what causes BPAN and guide future drug development.
On Saturday, we started the day by discussing the past, present, and future of BPAN research. There were presentations by genetic counselor, Allison Gregory, Dr. Penelope Hogarth, Dr. Suh Young Young and Dr. Apostolos Papandreou which are included in pdf format below. We ended the symposium with focus groups to allow family members to share with us what their biggest challenges and concerns were.
Powerpoint Presentations (PDF)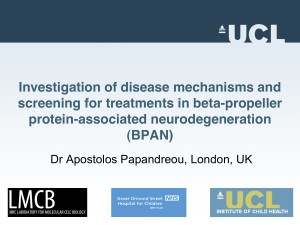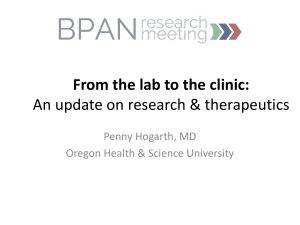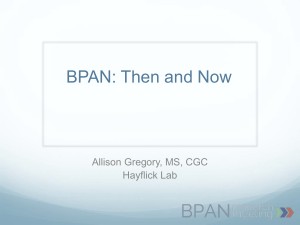 After the symposium, we moved out into the courtyard to enjoy lunch and welcome our guests of honor, Doctor Rojo and Nurse Napoleon. In the spirit of Portland's eccentric nature, our study coordinator, Leila, worked hard to coordinate a visit by therapy animals, Rojo the llama and Napoleon the alpaca. In the end it was a big success, as everyone had fun feeding them, doing "carrot kisses" and taking lots of pictures. Check out those sparkling eyes and big smiles! Even more photos can be found on Rojo's Facebook page:
After lunch some doctors and parents got a face full of pie for NBIA fundraising!
Finally, on Saturday afternoon and all day Sunday, families met one on one with Dr. Hogarth, Dr. Hayflick and/or Allison Gregory to ask questions and discuss concerns about their children.
Some key takeaway points from the meeting were:
Allison presented on how our understanding of what symptoms individuals with BPAN have is changing. By analyzing the medical records all of you have so graciously sent, we are learning that the spectrum of symptoms is much broader than we originally thought. You can see some key highlights in Allison's presentation
Dr. Hogarth has identified a compound that acts on the BPAN biological pathway. This drug is FDA-approved for another purpose so we are hopeful that if it shows promising results in the lab and on test animals, then we may be able to quickly move on to clinical trials in individuals with BPAN. UPDATE: Unfortunately, this compound did not show the results we were hoping for.
Our lab and Dr. Papandreou's research group in the UK are also testing a number of other compounds that will hopefully lead to clinical trials in the future.
Finally, we learned that there were many advantages to holding a research meeting in Portland, including coordination and efficient processing of biological samples. Therefore, we will likely be replicating this type of meeting in the future for other NBIA disorders.